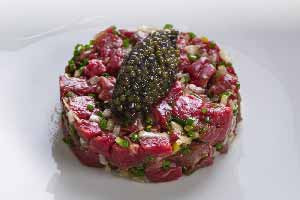 Beef Tartare with Caviar
Easy - 15 Min
style

Dish type:

Salad & Healthy
poll

Difficulty:

Easy
access_time

Preparation time:

15 min
timer

Cooking time:

15 min
place

Region:

France
euro_symbol

Cost:

₫1,059,000.00
Preparation
Ingredients for 4 people
28g Caviar
300g Beef
1 Shallot
Chives
Caper
Olive Oil
Flower of Salt
Method
Cut the loin into small pieces.
Peel and chop the shallot, cut the chives and then chop the caper.
Mix everything together with a trickle of olive oil, fleur de sel and pepper.
Place the mixture in a pastry cutter.
At the last moment, place a quenelle of caviar.
Enjoy the recipe and Cook like a Chef at home!
Ingredients
Quantity
Price

Cube Roll Black Angus 120Days Gf Portion Aus (300G) - Stanbroke

This product is not available in this quantity

₫533,000.00

Whole Capers Fruit With Stem In Vinegar (690g) - Metro Chef

This product is not available in this quantity

₫175,000.00

Shallot 250g  - Uncle 8

This product is not available in this quantity

₫25,000.00

Extra Virgin Olive Oil (1L) - Metro Chef | EXP 3/3/2022

This product is not available in this quantity

₫149,000.00

Fleur De Sel (500g) - Bac Lieu

This product is not available in this quantity

₫177,000.00